Key Features:
Hunter Leather
RFID Protection
1 Magnetic Money Clip
2 Upper Slide Pockets
3 Side Slide Pockets and
1 Window for IDs
Color: Shaded Brown.
RFID Protection: The frequency waves from RFID scanners are strong enough to pass through your clothing, handbag or backpack, and wallet. This is why Our wallets comes with first class RFID protectiion.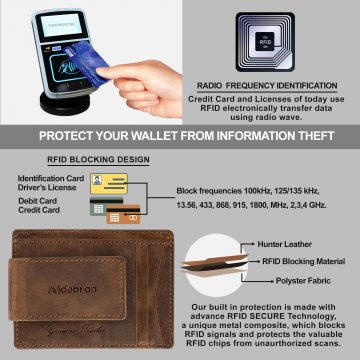 Material: 100% Pure Hunter Leather.
Design: Minimalist design feels light (60gms), perfectly fit in your jeans and pants (10.5×7.5×0.5) cm. Unlike other magnetic wallets that can be poorly made or have weak magnets, our first class design solves these problems as the magnetic money clip wallet is constructed of only the best materials, oversized super-strong earth magnets & top quality leather that will last for years.